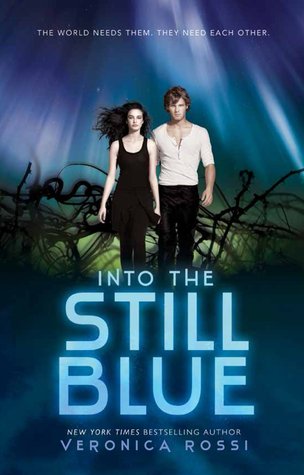 Synopsis: "
The race to the Still Blue has reached a stalemate. Aria and Perry are determined to find this last safe haven from the Aether storms before Sable and Hess do—and they are just as determined to stay together.

Within the confines of a cave they're using as a makeshift refuge, they struggle to reconcile their people, Dwellers and Outsiders, who are united only in their hatred of their desperate situation. Meanwhile, time is running out to rescue Cinder, who was abducted by Hess and Sable for his unique abilities. Then Roar arrives in a grief-stricken fury, endangering all with his need for revenge.

Out of options, Perry and Aria assemble an unlikely team for an impossible rescue mission. Cinder isn't just the key to unlocking the Still Blue and their only hope for survival--he's also their friend. And in a dying world, the bonds between people are what matter most.

In this final book in her earth-shattering Under the Never Sky trilogy, Veronica Rossi raises the stakes to their absolute limit and brings her epic love story to an unforgettable close."
Title: Into the Still Blue
Series: Under the Never Sky #3
Genre: dystopian, romance
Pages: 389
Ages: 14+
My Rating: 5 stars
One Word: crying
Fave Quote:

"Perry's ribs ached. "Why were we laughing?" Roar gestured to the south, where Aether funnels scored down to the earth. "Because of that. Because the world is ending." "That shouldn't be funny." Apparently it was, because it got them started again" (262).
Review


Ya'll don't understand the pain I feel right now that this series is....is...OVER.




Whenever I finish an "okay" book, it takes all of my willpower to write a review about it just because I want to move onto another book. However, I don't want to move onto another book. I want to hold onto this book until I can't stand Aria and Perry anymore (which would be a long while). I want to hold onto it because if I go onto another book it means that Dwellers and Outsiders, Aria and Perry, Roar and Soren, Aether and the Still Blue will no longer exist and I just can't take that separation anxiety. I mean, Veronica Rossi, I don't know how you do it, girl, but you have got me so attached to this world of yours.

Into the Still Blue...ahhh... yet another book with heart -wrenching, -twisting, -yanking, -melting moments. This is the type of book where every 100 pages there is a great looking happy ending and you know everything will turn to hell until it resolves again slightly. I was thinking to myself "alright, this is the ending" and then noticing another 75 pages to go. I mean, how frustrating and enticing is that?! No but seriously, it actually killed me (in a good way) when this happened.

I can't describe to you how well crafted this plot is. The reader can easily see how much Rossi put into this, every detail was intertwined in this story strategically. (view spoiler)["That's an inflatable boat, Outsider. And if that's what you're wearing, I'm out of this operation" (hide spoiler)] Mrs. Rossi also created multiple climaxes/mini resolutions to get the reader a little reprieve after every crazy moment which made me so grateful (especially those Aria/Perry moments). Every action packed part got my heart racing, with Rossi's amazing descriptions and vocabulary.

The characters were stellar. I fell in love with Aria and Perry all over again and of course I hated Sable. Soren and Roar increased the drama, but especially the comedy throughout the novel, and Brooke, Talon, Cinder were great additions. The thing that really created my love for the characters, however, is the fact that each one (excluding Sable) really has a heart, even if they haven't realized that in the beginning. This got me thinking that it could really relate to the real world, where some people may not know that they actually care before someone else realizes that they do. Aria and Perry really brought that out of people throughout the novel. Their chemistry with each other is also brilliant and raw. Some physical moments, yeah, but being able to read their thoughts for one another had my heart melting.



*sigh* everything reminds me of them.

The ending was both sad, brilliant, and making want more. I was hoping for some sort of epilogue to the future, but after reading Rossi's ending, it made sense to end it the way she did; giving the readers a sound resolution but also making us raise questions and possibilities to what may happen. It just sucks to think that I won't be able to read any more Perry and Aria:(.

Well, this marks the end of a crazy and beautiful journey. I will forever miss the characters and conflicts of Rossi's crazy world, but hey, maybe I'll pick it up again in the future when I want to relive the adventure :)

★★

★★

★