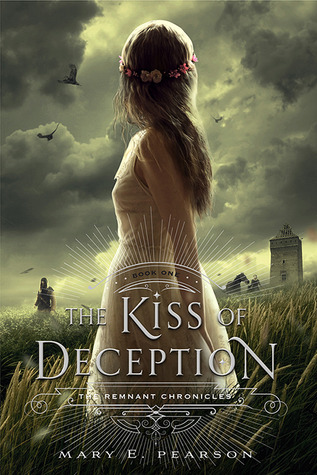 Synopsis:
"
A princess must find her place in a reborn world.
She flees on her wedding day.
She steals ancient documents from the Chancellor's secret collection.
She is pursued by bounty hunters sent by her own father.
She is Princess Lia, seventeen, First Daughter of the House of Morrighan.
The Kingdom of Morrighan is steeped in tradition and the stories of a bygone world, but some traditions Lia can't abide. Like having to marry someone she's never met to secure a political alliance.
Fed up and ready for a new life, Lia flees to a distant village on the morning of her wedding. She settles in among the common folk, intrigued when two mysterious and handsome strangers arrive—and unaware that one is the jilted prince and the other an assassin sent to kill her. Deceptions swirl and Lia finds herself on the brink of unlocking perilous secrets—secrets that may unravel her world—even as she feels herself falling in love."
Title: The Kiss of Deception
Genre: Historical Fantasy, Romance
Series: The Remnant Chronicles #1
Pages: 492
Ages: 13+
My Rating: 5 stars
One Word: PlotTwistMuch?
Fave Quote:
"And late at night as I stared at the stars, sometimes a whisper broke through, one I was too afraid to believe.

I will find you.

In the farthest corner, I will find you" (466).
Review
Ok, I have to tell you, the first 100 pages of this book were "ehh". Then... after that major climax (you know if you've read it) my eyes never left the book and I was zealously flipping the pages until the brilliant and heartbreaking ending. The reason why the first 100 pages or so were not really great was because Mary E. Pearson was playing with our minds, folks. AND I DIDN'T REALIZE THAT UNTIL THAT AMAZING PLOT TWIST. Maybe Pearson didn't mean to really trick us, maybe I'm just a dummy for not realizing sooner, but either way I was both surprised and fascinated by Pearson's DECEPTION (haha see what I did there?
Kiss of Deception
and "Pearson's Deception"? No? Ok).
Anyway, in the beginning of the book, I was very annoyed with Lia's decision to flee on her wedding day. "Is she really that selfish? Did she really favor her own love over the whole city's protection?" I was both shocked and mortified when she'd
laugh
with Pauline while they were escaping. Like, seriously girl, the whole city was relying on you to create the alliance with Dalbreck! And then she meets two very opposite, yet very enticing attractive men named Rafe and Kaden, and that's where I thought
Oh boy, not another love triangle
. The character development was not good at all either, and right when I was about to put this book down for good
BAM
Pearson just totally stretched my reading world to a whole new level. Lia transforms from the annoying "wannabe maid" to the brave, yet totally un-royal Princess Arabella as she fights for her life. But oh my goodness that plot twist and the aching and heartbreaking
love
during the second half of the book and the "gift" and Kaden and Rafe and the journey... This is my way of getting my excitement into my review without actually giving anything away ;)
Fantastic
read overall and amazing characters including, Gwyneth, Berdi, Pauline, Kaden, Rafe, and of course Lia. I swear the first half of the book (the "ehh" part) was just a build up to the amazing second half. And that ending was so heartbreaking and suspenseful with a brilliant cliffhanger that makes me want to reach for the second book NOW!! Read this book, folks. Pearson does a great job of deceiving our minds and then turning them around and around.