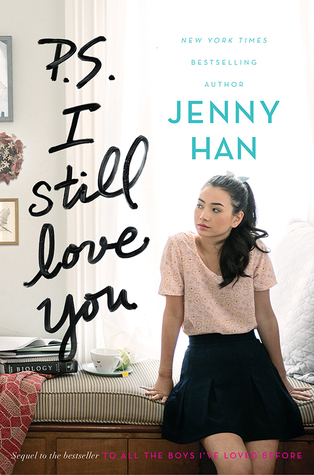 Synopsis:
"
Lara Jean didn't expect to
really
fall for Peter.
She and Peter were just pretending. Except suddenly they weren't. Now Lara Jean is more confused than ever.
When another boy from her past returns to her life, Lara Jean's feelings for him return too. Can a girl be in love with two boys at once?
In this charming and heartfelt sequel to the
New York Times
bestseller
To All the Boys I've Loved Before
, we see first love through the eyes of the unforgettable Lara Jean. Love is never easy, but maybe that's part of what makes it so amazing."
Title: P.S. I Still Love You
Series: To All the Boys I've Loved Before #2
Genre: Contemporary Romance
Pages: 337
Ages: 13+
My Rating: 3.5 stars
One Word: Super-Cheesy-Yet-Good-But-Not-Good-In-Real-Life-Love
Fave Quote:
"There's a Korean word my grandma taught me. It's called jung. It's the connection between two people that can't be severed, even when love turns to hate. You still have those old feelings for them; you can't ever completely shake them loose of you; you will always have tenderness in your heart for them."
Review
SPOILERS BELOW!
I'm not even going to dance around the fact that I just wasn't really as impressed as I was with the first novel. This book just didn't have the creativity, thrill, or build up that
To All the Boys I Loved Before
had. Not only that, but
P.S. I Still Love You
had me disliking all the characters that I loved from the first novel, including Lara Jean and Peter.
Was Lara Jean always so nosy and blunt as she was in this novel? Seriously, I could never imagine any real life conversation where one isn't at least a little embarrassed about talking about sex, and Lara Jean brings this up multiple times with multiple people! And Peter was even more sneaky about Gen as usual and didn't even apologize for hiding things from LJ! What a messed up relationship.
The plot also did not build up well. I really
really
would've liked John Ambrose McClaren if maybe he were apart of the story more and LJ's decision between the two guys was a little more serious. Also, I thought Jenny Han could have made a fabulous third book (and spice up the plot!) if Lara Jean picked John over Peter at the end of the novel,
and
if John were a more important character because otherwise the plot was very flimsy and really didn't have a strong build up like the first one did. I mean, John was basically just a Josh replacement (slightly better though), so I felt didn't really show any sympathy for him.
Aside from that, Jenny Han
does
know how to make great cheesy love conversations between Peter and Lara Jean (although I would never
ever
let a guy admit that he "loves spooning" in real life). It was very cute to read and all, I would just personally never want that kind of sappy love relationship in real life. And I
was
laughing throughout the novel, especially with the Assassin game that they play and of course with Kitty. However, Jenny Han could really have enliven the plot just a bit more.